Pardo-Ballester

,

Cristina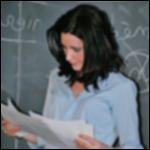 A case study: A technological insight on teaching translation
2022-07-14 , Pardo-Ballester, Cristina , World Languages and Cultures
This case study examines an online introductory Spanish-English translation course focused on learning Spanish through machine translation. Fifty-three Spanish learners were guided by their teacher to rethink, reflect, and interpret what Google Translate offered. Quantitative and qualitative analyses of learners' reports and teacher feedback revealed that the evaluative task design led to (a) high percentages of learners' interlinguistic and intercultural awareness and (b) translation methods awareness for more than half of the learners. Participants' responses to a literary translation assignment were explored through teacher scaffolding for learners to understand how to differentiate lexical to phrasal levels in a text, with the aim to translate also the style of the source text for the American audience. Pedagogical implications will be shared on how a teacher-learner approach on translation tasks prepared students for the language awareness learning process.
Language Teachers' Health: Emotions and Wellbeing in the COVID-19 Pandemic
2022 , Pardo-Ballester, Cristina , World Languages and Cultures
This chapter documents language teachers' emotions and wellbeing from the emergency online transition in Spring 2020 due to the Covid-19 pandemic to the end of Spring 2021. It also looks at how language teachers within the United States perceive the future of teaching languages. 175 educators responded to an anonymous online survey composed of various types of items such as multiple-choice, binary format, selection of multiple answers, and open-ended. Cronbach's alpha was .717 for 114 items and sub items. Descriptive statistics and repeated measures t-tests were computed to investigate teaching strategies and psychological consequences during the Covid-19 pandemic. The goals of this chapter are twofold: (1) to identify emotions and wellbeing issues that may be affecting language faculties and their success at their United States institutions and (2) to offer general recommendations to high-level administrators that draw upon language teachers' perceptions and factors that hinder L2 development in language programs.
"DESIGN-BASED RESEARCH" PARA EL APRENDIZAJE DE ESPAÑOL COMO LENGUA EXTRANJERA EN UN CURSO DE TRADUCCIÓN
2022 , Pardo-Ballester, Cristina , World Languages and Cultures
Durante más de diez años los estudiantes de lengua han usado Google Translate (GT) como atajo para hacer los deberes. Algunos docentes de lengua no están de acuerdo con que se use GT para aprender la segunda lengua (Faber y TurreroGarcía, 2020), pero como señala Jiménez-Crespo (2017) la realidad es que la traducción automática ha llegado para quedarse. Este artículo presenta la metodología de design-based research (DBR), que se implementó durante dos años, en un curso de introducción a la traducción español-inglés basándose en actividades para facilitar la adquisición de la competencia traductora (Hurtado Albir, 2001). La implementación de la metodología de DBR permite refinar el diseño del material y mejorar la instrucción de la lengua evaluando cada iteración del proyecto. El estudio identifica dos principios de diseño que nos pueden ayudar a modificar y refinar principios pedagógicos y metodológicos mediante el uso de medios digitales.


English: For more than ten years language students have used Google Translate (GT) as a shortcut to do their homework. Some language educators do not approve the use of GT for second language learning (Faber and Turrero-García, 2020), but the reality is that machine translation is here to stay (Jiménez-Crespo, 2017). This paper presents a design-based research (DBR) approach conducted over two years, in an Introduction to translation Spanish-English course based on activities to facilitate the acquisition of translational competence (Hurtado Albir, 2001). Implementing DBR allows refining the design of the materials and improving the teaching of the Spanish language by evaluating the iterations of the project. The study identifies two design principles that can help us modify and refine pedagogical and methodological principles using digital tools.



Haz Lo Que Yo Digo, No Lo Que Yo Hago
2022 , Pardo-Ballester, Cristina , World Languages and Cultures
Para los que se dedican a la enseñanza de lenguas, tras el descanso estival llegará el momento del semestre en que volvamos a repetir a los estudiantes que trabajen con un tema específico, que lo desarrollen, que aprendan de dicho tema para exponerlo oralmente con el objetivo que tanto los compañeros de clase como el docente comprendan el tema seleccionado durante la ponencia.