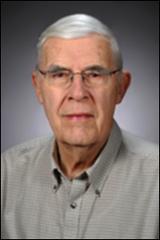 Preserving the Iowa Corn Crop: Energy Use and CO2 Release
1998 , Bern, Carl , Bern, Carl , Agricultural and Biosystems Engineering
A study was undertaken to estimate energy use and CO2 release due to postharvest preservation of the 38.8 × 106-Mg (1.52 ×109-bu) Iowa corn crop. About 87% of the crop is artificially dried. Other preservation methods include cribbing ear corn (7%), oxygen-limiting storage (5%) and chemical preservative treatment (1%). Preservation of the corn crop requires, in total, 18 200 TJ of energy and releases 1614 Gg of CO2. Combustion of fuel (liquefied petroleum or natural gas) and electricity accounted for 77 and 10% of total energy use, respectively. CO2 from combustion of fuel and generation of electricity accounted for 57 and 32% of the CO2 release, respectively. Preservation methods varied in total energy use and CO2 release from farm natural-air drying at 1020 MJ/Mg corn and 262 kg CO2/Mg corn to chemical preservative treatment at 116 MJ/Mg corn and 9.3 kg CO2/Mg corn.
Farmer Satisfaction with Hay and Forage Equipment in Allamakee and Mahaska Counties in Iowa
1994 , Ryken, Jim , Bern, Carl , Marley, Stephen , Bern, Carl , Agricultural and Biosystems Engineering
There are many opportunities for improvement in equipment used in the hay and forage industry. University and industry groups have listed and prioritized these opportunities. A project was undertaken to evaluate the level of satisfaction farmers in Allamakee and Mahaska counties in Iowa have with their hay and forage equipment, and to have them identify any needed changes in that equipment. The information was obtained through mailed surveys and follow-up phone interviews. The surveys included two evaluation matrices, which farmers used to rank their equipment on a satisfaction scale with respect to several criteria.
Carbon Dioxide Evolution of Fungicide-treated High-moisture Corn
1993 , Bern, Carl , Misra, Manjit , Misra, Manjit , Bailey, Theodore , Agricultural and Biosystems Engineering
Two corn hybrids, one resistant (FR35 ¥ FR20) the other susceptible (DF20 ¥ DF12) to storage fungi, were harvested and hand-shelled at 22% moisture, wet basis, and stored at this moisture in aerated l-kg bin units. Four Rovral® fungicide treatments plus an untreated control were tested using carbon dioxide evolution as the index of grain-deterioration rate. Equations of carbon dioxide weight versus time were fitted. The resistant corn hybrid manifested a lower deterioration rate than did the susceptible hybrid. Samples treated with fungicide showed a reduction in grain-deterioration rate compared with untreated samples.
Preservative Effects of Iprodione on Shelled Corn
1996 , Bern, Carl , Bern, Carl , Misra, Manjit , Misra, Manjit , Bailey, Theodore , Agricultural and Biosystems Engineering
Laboratory tests were conducted to determine preservative effects of iprodione (Rovral®) fungicide on shelled corn. One-kilogram corn samples were held at 20°C, and 18.0, 22.5, and 23.5% moisture while being aerated at 0.45 m3/min-Mg (0.4 cfm/bu). Time required for the samples to lose 0.5% of original dry matter was used as the criterion of preservative effectiveness. Application of 20 ppm of iprodione extended this time 21% for 18% moisture corn and 13% for 22.5% corn. Effectiveness of iprodione increases with application rate up to 100 ppm where storage time is extended about 25%. A higher application rate had little added effect. The 3.29 mL/kg (3 oz/bu) fungicide solution rate is more effective than the 5.48 mL/kg (5 oz/bu) rate. Non-uniform application of iprodione did not decrease preservative effectiveness if the same total quantity of fungicide was applied. Damaged kernel totals after storage tests were higher for 22.5% moisture samples, compared to 13% moisture samples, but were not affected by iprodione treatment.
Simulation of Ambient-air Drying of Fungicide-treated, High-moisture Corn in Iowa
1994 , Bern, Carl , Misra, Manjit , Misra, Manjit , Agricultural and Biosystems Engineering
Twenty-six years of Des Moines, Iowa, weather data were used in a computer simulation of ambient air drying of fungi-resistant and fungi-susceptible corn hybrids treated with Rovral® fungicide. Drying of 20 and 24% moisture corn harvested 15 October was simulated. Compared with the susceptible corn hybrid (DF20¥DF12) under the same conditions, the resistant corn hybrid (FR35¥FR20) had lower airflow requirements and used less fan energy. Rovral fungicide-treated corn had a lower rate of grain deterioration, required lower airflow rates, and used less fan energy than untreated corn.
Injector Feeder for Plot Combine Pneumatic Conveyor
1992 , Meester, Dave , Bern, Carl , Bern, Carl , Mangold, Duane , Agricultural and Biosystems Engineering
The pneumatic grain conveyor on a plot combine was evaluated and its crosstube grain injector redesigned to increase material throughput to a rate that would avoid plugging during operation in high-moisture corn. The new design allowed a throughput of 77 kg/min (169 lb/min) of high-moisture corn during tests.