Ultrasonic Imaging and the Long Wavelength Phase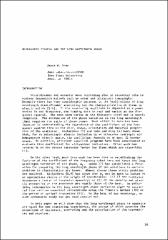 Series
Review of Progress in Quantitative Nondestructive Evaluation
Begun in 1973, the Review of Progress in Quantitative Nondestructive Evaluation (QNDE) is the premier international NDE meeting designed to provide an interface between research and early engineering through the presentation of current ideas and results focused on facilitating a rapid transfer to engineering development.
This site provides free, public access to papers presented at the annual QNDE conference between 1983 and 1999, and abstracts for papers presented at the conference since 2001.
Abstract
Elastodynamic and acoustic wave scattering play an essential role in various inspection methods such as sonar and ultrasonic tomography. Recently there has been considerable interest in the implications of long wavelength elastodynamic scattering for the characterization of flaws in elastic solids [1-6]. If the scattering amplitude is expanded as a power series in the frequency, the leading term is real and varies as the frequency squared. The next term varies as the frequency cubed and is purely imaginary. The evaluation of the phase variation in the long wavelength limit requires the ratio of these terms. Most effort to date has been invested in understanding the dependence of the coefficient of the frequency squared term on the size, shape, orientation and material properties of the scatterer. Richardson [3] and Kohn and Rice [4] have shown that, for an anisotropic elastic inclusion in an otherwise isotropic and homogeneous elastic space, the coefficient depends on at most 22 parameters. In addition, efficient numerical programs have been constructed to evaluate this coefficient for ellipsoidal inclusions. Other work has related it to the stress intensity factor for flaws which are crack-like [5].
Subject Categories
Copyright
Wed Jan 01 00:00:00 UTC 1986
Collections