ACE I/D genotype in professional field hockey players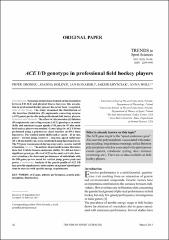 Abstract
Introduction. Numerous studies have focused on the association between I/D ACE and physical fitness; however, this association in professional hockey players has never been recognized.
Aim of the Study. The study examined the distribution of Alu insertion (I)/deletion (D) angiotensin converting enzyme (ACE) genotypes in elite male professional field hockey players.
Material and Methods. The effect of Alu insertion (I)/deletion (D) angiotensin converting enzyme (ACE) genotypes on motor skills and maximal oxygen uptake (VO2max) in 47 elite male field hockey players was studied. Genotyping for ACE I/D was performed using a polymerase chain reaction on DNA from leucocytes. The studied motor skills such as speed – 20 m run, power – vertical jump, recovery – step-test, speed endurance (15 x 20 m) shuttle run, were established using functional tests. The VO2max was measured during progressive exercise test till exhaustion.
Results. The authors do not confirm some literature data that D allele favours endurance ability. We did not detect significant genotype effects of ACE on the analyzed traits; however a tendency for decreased performance of individuals with the DD genotype was noted for vertical jump, power peak and power.
Conclusions. Analysis of the genetic profile of ACE I/D may provide supplemetary information on a player's predispositions to exercise with specific energy requirements.
Comments
This article is published as Gronek, Piotr, Joanna Holdys, Jan Konarski, Jakub Kryściak, and Anna Wolc. "ACE I/D genotype in professional field hockey players." Trends in Sports Sciences (2013): 36-40. http://www.tss.awf.poznan.pl/. Posted with permission.
Subject Categories
Copyright
Tue Jan 01 00:00:00 UTC 2013
Collections