Comparison of cloud systems simulated with two-dimensional and three-dimensional cloud resolving models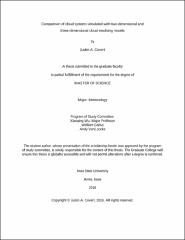 Department
Geological and Atmospheric Sciences
Abstract
Two-dimensional (2D) and three-dimensional (3D) cloud resolving models (CRM) are some of the best tools that can be used to simulate convective cloud systems and their properties relative to larger scale models. But, when attempting to understand when a certain type of CRM should be used, previous studies on the effects of dimensionality within CRMs have returned conflicting results. Equivalent 2D and 3D CRMs were used to produce 30-day simulations of the Madden-Julian Oscillation (MJO) during the first month of the Dynamics of the Madden-Julian Oscillation (DYNAMO) field campaign (October 2011) to study the effects of dimensionality to increase understanding of convective cloud processes and the processes behind the MJO. The MJO is a 30 – 90 day oscillation that occurs in multiple rainy and dry phases within the Eastern Indian and Western Pacific Ocean, but the mechanisms as to why it occurs is relatively unknown. By using CRMs to simulate cloud systems during the MJO, results can provide insight into one of the main theories of the MJO, the building block theory, which is based on cloud formation and organization. The simulations are broken down into suppressed (dry) and active (rainy) MJO phases; precipitating clouds are further separated based on convective precipitation and non-convective precipitation gain further understanding of the difference in weak and strong convection.
Differences between the two- and three- dimensional models during the suppressed MJO phase are shown to be small mainly due to a lack of strong forcing or convection. The 3D model is slightly drier during this time, but it does produce more precipitation than the 2D model. Differences are shown to be larger during the active phase of the MJO, especially in the cloud mass flux and momentum fluxes in which values are larger in the 3D model. Cloud properties within non-convective precipitation are found to have small differences between the 2D and 3D CRMs, but cloud properties during convective precipitation are shown to be much larger. The 3D model simulates stronger vertical motion, larger cloud mass fluxes, and larger momentum fluxes within this type of precipitation.
The results show that 3D simulations result in more cloud and stronger vertical motion. Results also suggest that momentum, vertical motion, and pressure are sensitive to dimensionality. Understanding how sensitive these processes are to dimensionality is important for the use of CRMs for MJO simulations and within global models climate models. Vertical wind shear plays an important role within these cloud processes, and future studies should focus on the impact of the wind shear to better understand the differences in momentum and cloud formation in 2D and 3D models.
Subject Categories
Copyright
Sun Dec 01 00:00:00 UTC 2019
Collections