A Fiber Optic RF Resonant Cavity Sensor for Strain Sensing-Forrcs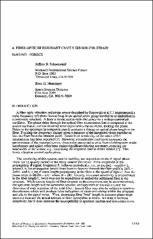 Series
Review of Progress in Quantitative Nondestructive Evaluation
Begun in 1973, the Review of Progress in Quantitative Nondestructive Evaluation (QNDE) is the premier international NDE meeting designed to provide an interface between research and early engineering through the presentation of current ideas and results focused on facilitating a rapid transfer to engineering development.
This site provides free, public access to papers presented at the annual QNDE conference between 1983 and 1999, and abstracts for papers presented at the conference since 2001.
Abstract
A fiber optic vibration and strain sensor described by Rogowski et al [1] implemented a radio frequency (rf) phase locked loop in an optical strain gauge bonded to or embedded in a composite structure. A laser is modulated at radio frequency by a voltage controlled oscillator. The phase delay through the optical fiber transmission line is compared to the source oscillator, and the resulting error signal shifts the oscillator, locking the phase. Strain in the specimen (a composite panel) produces a change in optical phase length in the fiber. Tracking the frequency change gives a measure of the integrated strain transduced into the fiber from the strained panel. Strain level sensitivity on the order of 0.1 microstrains has been reported [1]. However, considerable confusion surrounds the performance of the reported sensor, since noise presumed to arise from cladding/core mode interference and splice reflections makes significant filtering necessary, reducing the bandwidth of the sensor, e.g., increasing the response time to detect strains [2]. This limits vibration control applications.
Copyright
Tue Jan 01 00:00:00 UTC 1991
Collections