Tillage and Weed Management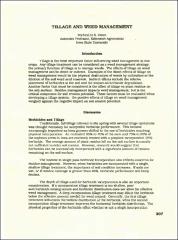 Altmetrics
Series
Proceedings of the Integrated Crop Management Conference
The Iowa State University Integrated Crop Management Conference is Iowa's premier crop production education event. No other program in Iowa brings together the diverse range of topics, slate of expert presenters and results of the latest University research.
The ICM Conference offers workshops focusing on the latest in crop production technology. Experts from Iowa and surrounding states will provide research updates and results in soil fertility, soil and water management, crop production and pest management.
Abstract
Tillage is the most important factor influencing weed management in row crops. Any tillage treatment can be considered as a weed management strategy: the primary function of tillage is to manage weeds. The effects of tillage on weed management can be direct or indirect. Examples of the direct effects of tillage on weed management would be the physical destruction of weeds by cultivation or the dilution of the soil weed seed reservoir. Indirect effects include the relative placement of herbicides in the soil and the impact on herbicide degradation. Another factor that must be considered is the affect of tillage on plant residue on the soil surface. Residue management impacts weed management, but is the critical component for soil erosion potential. These factors must be evaluated when developing a tillage system: the positive effects of tillage on weed management weighed against the negative impact on soil erosion potential.
Subject Categories
Collections