General automated flaw detection scheme for NDE X-ray images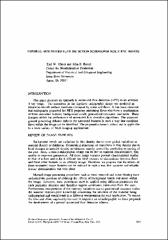 Series
Review of Progress in Quantitative Nondestructive Evaluation
Begun in 1973, the Review of Progress in Quantitative Nondestructive Evaluation (QNDE) is the premier international NDE meeting designed to provide an interface between research and early engineering through the presentation of current ideas and results focused on facilitating a rapid transfer to engineering development.
This site provides free, public access to papers presented at the annual QNDE conference between 1983 and 1999, and abstracts for papers presented at the conference since 2001.
Abstract
This paper presents an approach to automated flaw detection (AFD) in an arbitrary X-ray image. The intensities in the digitized radiographic image are modeled as piecewise-smooth surface functions corrupted by noise and flaws. It has been observed that radiographs generated for NDE purposes containing flaws also have a combination of three unwanted features; background trends, geometrical structures, and noise. These features inhibit the performance of automated flaw detection algorithms. The proposed general processing scheme reduces the unwanted features in such a way that candidate flaws within the image can be identified. The proposed scheme is robust and is applicable to a wide variety of NDE imaging applications.
Subject Categories
Copyright
Fri Jan 01 00:00:00 UTC 1993
Collections