Impact of dietary fiber and exogenous carbohydrases in weaned pigs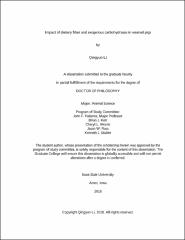 Abstract
Due to the potential benefits of dietary fiber on gut health, interest in the use of higher-fiber coproducts in weaned pig diets has been growing. Young pigs are not efficient at utilizing dietary fiber. To maximize the nutritional value of fibrous coproducts and mitigate their potential negative effects on nutrient utilization and growth performance of young pigs, exogenous carbohydrases are widely used. However, the results regarding the impact of carbohydrases on performance have been inconsistent and a better understanding of associated mechanisms of carbohydrases in pigs is needed. Carbohydrases may also exert prebiotic effects through release of oligosaccharides from fiber degradation. Thus, dietary fiber and carbohydrases may improve disease resilience of young pigs against bacterial infections. Post-weaning diarrhea (PWD) caused by enterotoxigenic Escherichia coli (ETEC) is an economically important disease in the swine industry. Previous results regarding the impact of soluble versus insoluble fiber on PWD in weaned pigs have been conflicting. This highlights the need to better understand the mechanisms by which different sources of fiber mitigate or exacerbate PWD. Currently, limited research has evaluated if the addition of carbohydrase to higher-fiber diets can mitigate PWD in pigs. Therefore, the overall objective of this dissertation research was to evaluate the impact of exogenous carbohydrases and dietary fiber in weaned pigs under normal physiological and ETEC-challenged conditions and to elucidate the associated modes of action.
To achieve our objective, two intensive experiments were conducted. The results from Experiment 1 (Chapters 2 and 3) showed that a carbohydrase enzyme blend (EB) improved growth rate of weaned pigs fed higher fiber diets (with added distillers dried grains with solubles and wheat middlings), which may be partly due to enhanced small intestinal barrier integrity and reduced local and systemic markers of inflammation. The improved ileal barrier integrity in the ileum and decreased cecal total VFA concentration in EB suggests that EB addition shifts fiber degradation from the hindgut to the small intestine. This provides mode of action evidence for carbohydrase supplementation in improving performance of weaned pigs - enhancing gut barrier function and reducing inflammation to spare energy and nutrient for growth. Experiment 2 (Chapters 4 and 5) used a F18 ETEC challenge model. As expected, the ETEC challenge increased incidence of diarrhea, decreased markers of barrier integrity, disrupted intestinal microbial homeostasis, and reduced growth performance during the 14-day trial. The data suggest that a diet containing a soluble and highly fermentable fiber from sugar beet pulp with added carbohydrases may be used to improve gut health and maintain growth performance of pigs under moderate ETEC challenge. The use of an insoluble and poorly fermentable fiber from corn distillers dried grains with solubles may be avoided in feeding nursery pigs at risk of PWD.
Overall, this dissertation work elucidated additional mechanisms, beyond nutrient utilization and microbiota, by which carbohydrases enhance growth performance of weaned pigs fed higher fiber diets. This research also shed light on gut health benefits of carbohydrase supplementation in higher-fiber diets in ETEC-challenged weaned pigs. Data from this dissertation suggest that appropriate use of exogenous carbohydrases in higher-fiber diets is promising in improving gut health and growth performance of weaned pigs. As such, carbohydrases may be used as an effective alternative feeding strategy to support reduced use of antibiotic growth promoters in pork production.
Subject Categories
Copyright
Sat Dec 01 00:00:00 UTC 2018
Collections