Experimental Studies on the Role of Backfill and Pipeline Characteristics in the Application of Acoustic Leak Location to Underground Pipelines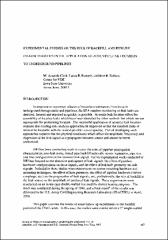 Series
Review of Progress in Quantitative Nondestructive Evaluation
Begun in 1973, the Review of Progress in Quantitative Nondestructive Evaluation (QNDE) is the premier international NDE meeting designed to provide an interface between research and early engineering through the presentation of current ideas and results focused on facilitating a rapid transfer to engineering development.
This site provides free, public access to papers presented at the annual QNDE conference between 1983 and 1999, and abstracts for papers presented at the conference since 2001.
Abstract
In response to numerous releases of hazardous substances from leaks in underground storage tanks and pipelines, the EPA requires monitoring so that leaks are detected, located and repaired as quickly as possible. Acoustic leak location offers the possibility of locating leaks which have been identified by other methods but which are not appropriate for performing location. The successful application of acoustic leak location requires that existing data analysis approaches be improved so that the smallest leaks of interest be locatable with the widest possible sensor spacing. Part of developing such approaches requires that the physical conditions which affect the amplitude, frequency, and dispersion of the leak signal as it propagates between source and sensor be better understood.
Subject Categories
Copyright
Wed Jan 01 00:00:00 UTC 1997
Collections