Characterization of Static- and Fatigue-Loaded Carbon Composites by X-Ray CT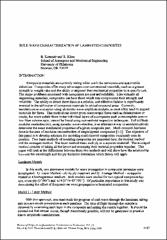 Series
Review of Progress in Quantitative Nondestructive Evaluation
Begun in 1973, the Review of Progress in Quantitative Nondestructive Evaluation (QNDE) is the premier international NDE meeting designed to provide an interface between research and early engineering through the presentation of current ideas and results focused on facilitating a rapid transfer to engineering development.
This site provides free, public access to papers presented at the annual QNDE conference between 1983 and 1999, and abstracts for papers presented at the conference since 2001.
Abstract
Computed Tomography methodologies were investigated to better understanding their possibility to improve the knowledge and a correct understanding of the behavior of thin Carbon-Polymer composites when static or fatigue loaded to failure. We applied CT to study a set of six aerospace grade carbon fiber/thermoplastic or fiber/thermoset matrix composites. The samples were subjected to either static or high-stress fatigue loading in tension. Both notched (central circular hole) and unnotched specimens were examined. We investigateed a high-temperature thermoplastic polyimide composite sample by acquiring CT data sets before, during (at set intervals), and after full-reversal (tension-compression), low-stress fatigue loading at the upper use temperature.
Copyright
Mon Jan 01 00:00:00 UTC 1996
Collections