Piglet Mortality in an Outdoor Farrowing Hut: What Behaviors Contribute to Their Demise?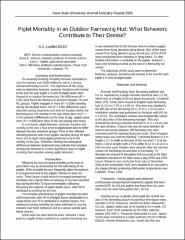 File
Altmetrics
Abstract
Pre-weaning crushing mortality has been estimated to cost the industry over $100 million/yr and is a serious animal well-being concern. The objectives of this study were to determine behavior, postures, locations and vicinity to the sow for each piglet 1-h prior to piglet death when housed in an outdoor farrowing hut. No differences (P > 0.05) were found for behavior or postures between CR and NC groups. Piglets engaged in more (P = 0.006) standing during the daylight hours. No (P > 0.05) differences were observed among treatments and time for location within the farrowing hut. For vicinity to the sow, there were no (P > 0.05) treatment differences but for time of day, piglets spent more (P = 0.004) time close to the sow during dark hours.
In conclusion, piglet behavior, postures, location and vicinity to the sow 1 hour prior to piglet death did not differ between the two treatment groups. Time of day affected standing postures with more piglets standing during the light hours and at night more piglets preferred to be in the vicinity of the sow. Therefore, finding few behavioral differences between treatments may indicate that variation among sow behavior is a more significant cause of piglet crushing than variation among piglet behaviors.
Subject Categories
Copyright
Tue Jan 01 00:00:00 UTC 2008
Collections