Long and Intermediate Wavelength Flaw Reconstruction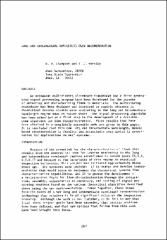 Series
Review of Progress in Quantitative Nondestructive Evaluation
Begun in 1973, the Review of Progress in Quantitative Nondestructive Evaluation (QNDE) is the premier international NDE meeting designed to provide an interface between research and early engineering through the presentation of current ideas and results focused on facilitating a rapid transfer to engineering development.
This site provides free, public access to papers presented at the annual QNDE conference between 1983 and 1999, and abstracts for papers presented at the conference since 2001.
Abstract
An automated multiviewing ultrasonic transducer and a first generation signal processing program have been developed for the purpose of detecting and characterizing flaws in materials. The multiviewing transducer has been designed and developed to exploit advances in theoretical inverse elastic wave scattering in the long and intermediate wavelength regime made in recent years. The signal processing algorithm has been assembled as a first step in the development of a decision-tree algorithm for flaw characterization. First results that have been obtained in a completely automatic mode are given in this paper. It is concluded that this new long and intermediate wavelength, model-based reconstruction is feasible and potentially very useful in quantitative NDE applications on real systems.
Subject Categories
Copyright
Tue Jan 01 00:00:00 UTC 1985
Collections