Magneto-Acoustic Stress Responses of Various Rail Metallurgies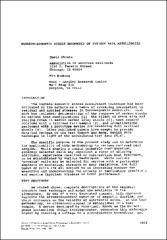 Series
Review of Progress in Quantitative Nondestructive Evaluation
Begun in 1973, the Review of Progress in Quantitative Nondestructive Evaluation (QNDE) is the premier international NDE meeting designed to provide an interface between research and early engineering through the presentation of current ideas and results focused on facilitating a rapid transfer to engineering development.
This site provides free, public access to papers presented at the annual QNDE conference between 1983 and 1999, and abstracts for papers presented at the conference since 2001.
Abstract
The magneto-acoustic stress measurement technique has been evaluated by the authors as a means of revealing information on residual and applied stresses in ferromagnetic materials. Past work has included: documentation of the response of carbon steels to various test configurations [1], the effect of grain size and cooling rates in medium carbon alloy steels [2], test results obtained with a railroad rail sample [3], and investigations performed with a prototype device for examining full railroad wheels [4]. Other published papers have sought to provide detailed reviews of the test theory and model behind this technique in light of the accumulated test data [5,6].
Copyright
Mon Jan 01 00:00:00 UTC 1990
Collections