Artisanal Fashion Design: Entrepreneurs on Thinking, Process, and Decision Making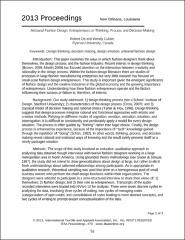 Series
International Textile and Apparel Association (ITAA) Annual Conference Proceedings
The first national meeting of textile and clothing professors took place in Madison, Wisconsin in June 1959. With a mission to advance excellence in education, scholarship and innovation, and their global applications, the International Textile and Apparel Association (ITAA) is a professional and educational association of scholars, educators, and students in the textile, apparel, and merchandising disciplines in higher education.
This site provides free, public access to the ITAA annual conference proceedings beginning in 2015. Previous proceedings can be found by following the "Additional ITAA Proceedings" link on the left sidebar of this page.
Abstract
This paper examines the ways in which fashion designers think about themselves, the design process, and the fashion industry. Recent interest in design thinking (Brown, 2009; Martin 2009) has focused attention on the interaction between creativity and rationality in the design process. Within the fashion design literature there are studies of processes in large fashion manufacturing enterprises but very little research has focused on small-scale fashion design entrepreneurs. This study is important given the emergent significance of fashion design and the creative industries in the global economy and the growing importance of entrepreneurs. Understanding how these fashion entrepreneurs operate and the factors influencing their success or failure is, therefore, of interest.
Subject Categories
Collections