Optimal replacement in the proportional hazards model and its applications in a product-service system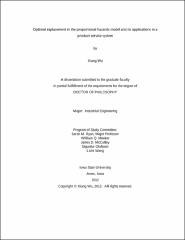 Altmetrics
Department
Industrial and Manufacturing Systems Engineering
Abstract
Condition-based maintenance is rapidly gaining favor as a way to prevent the failures of capital-intensive assets and to maintain them in good operating condition with minimum cost. A valuable and increasingly prevalent way to incorporate condition information into risk estimation is by the proportional hazards model (PHM), which explicitly includes both the age and the condition information in the calculation of the hazard function. This dissertation consists of three papers, in which the optimal replacement policies for systems whose deterioration process follows the PHM are developed under different settings; and a joint optimization of the asset and inventory management problem in the context of a product-service system is considered.
In the first paper, a continuous time Markov covariate process is assumed to describe the condition of a system that is under periodic monitoring. Although the form of an optimal replacement policy for such a system in the PHM was developed previously, an approximation of the Markov process as constant within inspection intervals led to a counter-intuitive result that less frequent monitoring could yield a replacement policy with lower average cost. Accounting for possible state transitions between inspection epochs removes the approximation and eliminates the cost anomaly. A new recursive procedure to obtain the parameters of the optimal replacement policy is presented. By comparing the replacement and monitoring costs of different monitoring scheme, the value of condition information is evaluated.
In the second paper, the optimal replacement policy for systems in the PHM with semi-Markovian covariate process and continuous monitoring is developed. Numerical examples and sensitivity analysis provide some insights about the suitability of a Markov approximation and the impact of the variations in the input parameters on the cost.
In applying the optimal replacement policies to a product-service system, where the producers provide the use of the products to customers while retaining ownership, the coupling between the decision making for preventive replacement and the decision making for inventory management is evident. In the third paper, an integrated model is proposed for the preventive maintenance of a fleet of products and the inventory management of a hybrid manufacturing-remanufacturing system in the context of a product-service system. A joint optimization technique is developed to obtain the optimal parameters for the operational policy of the integrated model to minimize the long run average cost per unit time. In addition, the effect of the assumption that the replaced products are not sorted is evaluated.
Subject Categories
Copyright
Sun Jan 01 00:00:00 UTC 2012
Collections