Fi Sci: What Gets You Up?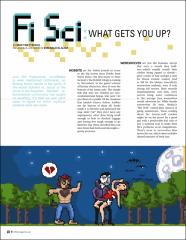 Department
Iowa State University Digital Repository
Abstract
Just like fingerprints, snowflakes or even malformed birthmarks, no fantasy fiction reader is the same. If the recent Edward vs. Jacob or the never-to-be-forgotten Gandalf vs. Dumbledore controversy has taught us anything, it's that we just can't seem to agree on which mythical creature kicks ass more.
Subject Categories
Collections