Ultrasonic Attenuation of Water-Infiltrated Thermal Barrier Coatings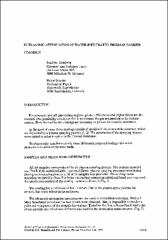 Series
Review of Progress in Quantitative Nondestructive Evaluation
Begun in 1973, the Review of Progress in Quantitative Nondestructive Evaluation (QNDE) is the premier international NDE meeting designed to provide an interface between research and early engineering through the presentation of current ideas and results focused on facilitating a rapid transfer to engineering development.
This site provides free, public access to papers presented at the annual QNDE conference between 1983 and 1999, and abstracts for papers presented at the conference since 2001.
Abstract
For advanced aircraft gas-turbine engines greater efficiencies and higher thrust are demanded. One possibility to achieve this is to increase the gas temperature at the turbine-section. Then thermal barrier coatings are necessary to protect the metallic structures.
Subject Categories
Copyright
Fri Jan 01 00:00:00 UTC 1993
Collections