Digital multiple wavelength phase shifting algorithm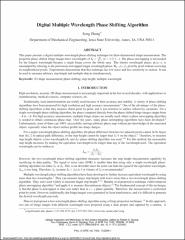 Abstract
This paper presents a digital multiple-wavelength phase-shifting technique for three-dimensional shape measurement. The projected phase-shifted fringe images have wavelengths of λκ = W/2κ-1 (k = 1,2,3...). The phase unwrapping is not needed for the longest wavelength because a single fringe covers the whole area. The shorter wavelength phase, φκ(x,y), is unwrapped by referring to the previously unwrapped longer wavelength phase, Φk-1(x,y), pixel by pixel without accessing its neighborhood pixels. Experiments demonstrate that this technique has low noise and less sensitivity to motion. It can be used to measure arbitrary step height and multiple objects simultaneously.
Comments
This is a conference proceeding from Optical Inspection and Metrology for Non-Optics Industries 7432 (2009): 1, doi:10.1117/12.823903. Posted with permission.
Copyright 2009 Society of Photo-Optical Instrumentation Engineers. One print or electronic copy may be made for personal use only. Systematic electronic or print reproduction and distribution, duplication of any material in this paper for a fee or for commercial purposes, or modification of the content of the paper are prohibited.
Subject Categories
Copyright
Thu Jan 01 00:00:00 UTC 2009
Collections