Modeling Through Transmission Ultrasonics for Controlling the Fusion Bonding of Composites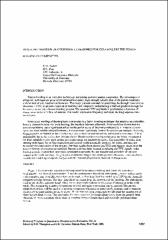 Series
Review of Progress in Quantitative Nondestructive Evaluation
Begun in 1973, the Review of Progress in Quantitative Nondestructive Evaluation (QNDE) is the premier international NDE meeting designed to provide an interface between research and early engineering through the presentation of current ideas and results focused on facilitating a rapid transfer to engineering development.
This site provides free, public access to papers presented at the annual QNDE conference between 1983 and 1999, and abstracts for papers presented at the conference since 2001.
Abstract
Fusion bonding is an attractive technology for joining polymer matrix composites. The advantages of using this technique are good environmental resistance, high strength (ideally that of the parent materials), and the lack of any mechanical fasteners. This study presents a model for predicting the through transmission ultrasonic (TTU) amplitude response of multilayered composite media having a thermal gradient through the thickness, as seen in a fusion bonding process. The received TTU amplitude is predicted as a function of temperature at the interface of interest. The model response to frequency and layer stacking sequence was investigated.
Copyright
Sun Jan 01 00:00:00 UTC 1995
Collections