Images of Flaws in Generator Retaining Rings Using SAFT Reconstruction of TOFD Data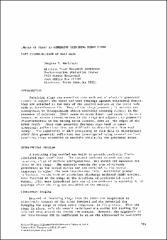 Series
Review of Progress in Quantitative Nondestructive Evaluation
Begun in 1973, the Review of Progress in Quantitative Nondestructive Evaluation (QNDE) is the premier international NDE meeting designed to provide an interface between research and early engineering through the presentation of current ideas and results focused on facilitating a rapid transfer to engineering development.
This site provides free, public access to papers presented at the annual QNDE conference between 1983 and 1999, and abstracts for papers presented at the conference since 2001.
Abstract
Retaining rings are assembled onto each end of electric generator rotors to support the rotor end-turn windings against rotational forces. They are attached to the ends of the slotted portion of the rotor body with an interference fit. Many of the rings presently in service are susceptible to intergranular stress corrosion cracking (IGSCC) in the presence of moisture. IGSCC seems to occur first, and tends to be more severe, at stress concentrations in the rings and adjacent to geometric discontinuities in the mating rotor surface, such as, the edges of the rotor teeth. These same geometric features also tend to cause ultrasonic reflections that are difficult to discriminate from real damage. The capability of SAFT processing of TOFD data to discriminate IGSCC from geometric reflectors was investigated using several retired retaining rings assembled to mandrels simulating the generator rotor.
Subject Categories
Copyright
Mon Jan 01 00:00:00 UTC 1990
Collections