Ultrasonic Characterization of Interfacial Fatigue Damage in Metal Matrix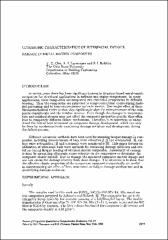 Series
Review of Progress in Quantitative Nondestructive Evaluation
Begun in 1973, the Review of Progress in Quantitative Nondestructive Evaluation (QNDE) is the premier international NDE meeting designed to provide an interface between research and early engineering through the presentation of current ideas and results focused on facilitating a rapid transfer to engineering development.
This site provides free, public access to papers presented at the annual QNDE conference between 1983 and 1999, and abstracts for papers presented at the conference since 2001.
Abstract
In recent years there has been significant interest in titanium-based metal-matrix composites for structural applications in airframe and engine components. In many applications, these composites are integrated into structural components by diffusion bonding. Thus the composites are subjected to temperature/time cycles during material processing and to temperature/stress cycles in service. One major effect of these thermomechanical cycles is that they significantly alter the microstructure of the composite constituents and the residual stresses. Even though the changes in microstructure and residual stresses may not affect the composite properties greatly, they often lead to completely different failure mechanisms. Therefore, it is important to understand the role of heat treatment on composite damage development, which can only be done by nondestructively monitoring damage initiation and development during the failure process.
Copyright
Sun Jan 01 00:00:00 UTC 1995
Collections