A Process Sensor for Locating the Liquid-Solid Boundary through the Mold of a Casting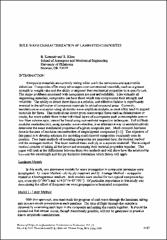 Series
Review of Progress in Quantitative Nondestructive Evaluation
Begun in 1973, the Review of Progress in Quantitative Nondestructive Evaluation (QNDE) is the premier international NDE meeting designed to provide an interface between research and early engineering through the presentation of current ideas and results focused on facilitating a rapid transfer to engineering development.
This site provides free, public access to papers presented at the annual QNDE conference between 1983 and 1999, and abstracts for papers presented at the conference since 2001.
Abstract
Accurate process control of single-crystal and directionally-solidified castings requires knowledge of the exact location of the solidifying front. If the front advances too rapidly, single crystal growth in a preferred orientation degenerates into the formation of polycrystals. A solidification front which moves more slowly than necessary is wasteful of the casting resources. A sensing technology is being developed which determines the location of the boundary between a solidifying crystal and liquid metal. The sensing method utilizes the ordered pattern of x-rays diffracted from the solid as an absolute indicator of the liquid-crystal interface.
Subject Categories
Copyright
Mon Jan 01 00:00:00 UTC 1996
Collections