Crop weather outlook 2017 and beyond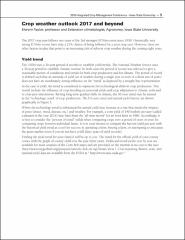 Altmetrics
Series
Proceedings of the Integrated Crop Management Conference
The Iowa State University Integrated Crop Management Conference is Iowa's premier crop production education event. No other program in Iowa brings together the diverse range of topics, slate of expert presenters and results of the latest University research.
The ICM Conference offers workshops focusing on the latest in crop production technology. Experts from Iowa and surrounding states will provide research updates and results in soil fertility, soil and water management, crop production and pest management.
Abstract
The 2017 crop year follows two years of the 3rd strongest El Niño event since 1950. Historically, very strong El Niño events have only a 25% chance of being followed by a poor crop year. However, there are other factors in play that point to an increasing risk of adverse crop weather during the coming eight years.
Subject Categories
Collections