Surface Acoustic Wave Filters for Real Time Processing of Ultrasonic Signals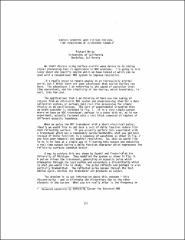 Series
Review of Progress in Quantitative Nondestructive Evaluation
Begun in 1973, the Review of Progress in Quantitative Nondestructive Evaluation (QNDE) is the premier international NDE meeting designed to provide an interface between research and early engineering through the presentation of current ideas and results focused on facilitating a rapid transfer to engineering development.
This site provides free, public access to papers presented at the annual QNDE conference between 1983 and 1999, and abstracts for papers presented at the conference since 2001.
Abstract
We shall discuss using surface elastic wave device to do analog signal processing that is applicable to NOE problems . I'm going to talk today about one specific device which we have looked at which can be used with a conventional NOE system to improve resolution.
It's really brave to remain analog in an increasingly digital world, but I think there are some advantages that analog devices can have. The advantages I am referring to are speed of operation (real time operation), and the simplicity of the device, which translates, in part, into low cost.
Subject Categories
Collections