Improved predictions of contaminant transport in rivers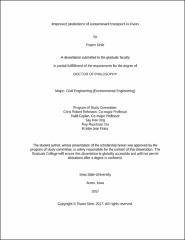 Advisor
Chris R. Rehmann
Halil Ceylan
Altmetrics
Department
Civil, Construction, and Environmental Engineering
Abstract
To improve predictions of contaminant transport in rivers, two analytical models and one empirical model were evaluated. Analytical solutions of the model of Reichert and Wanner (1991), which represents mixing in the advective zone by dividing the channel into a flowing zone and a stagnant zone, were developed for two cases: a spill in the stagnant zone and a maintained injection in the flowing zone. Compared to the case of a flowing zone spill solved by Schmalle and Rehmann (2014), contaminant clouds for a stagnant zone spill travel more slowly, spread more, and shift from positive to negative skewness. These differences are due to the initial delay in advection of the cloud caused by transfer from the stagnant zone to the flowing zone. The solution for a maintained injection in the flowing zone differs from that from the ADE only for small times and distances from the source. This study provides further solutions to be used as building blocks in constructing more complex solutions for contaminant transport in the advective zone of a river.
The second model introduces an analytical solution for a transient storage model that accounts for surface storage and hyporheic exchange as well as for lateral inflow and decay in the main channel and two storage zones. Analysis of temporal moments shows that the subsurface storage zone affects the transport even if the transfer coefficient between subsurface storage and the main channel is two orders of magnitude smaller than the transfer coefficient for surface storage. The analytical solution for the two-storage model is not only practical but it also avoids the challenges of modifying and calibrating the existing numerical model that accounts for only one storage zone.
To avoid the challenges of estimating the parameters for mixing models from limited data about the flow, an empirical model was developed that uses data readily available at gaging stations operated by the U.S. Geological Survey (USGS). The empirical model represents the tracer response with the Gumbel distribution, which has a skewness coefficient close to the value observed in tracer studies. The proposed model predicts arrival times of the leading and trailing edge better than a similar method developed by the USGS, and it underestimates the peak concentration by an average of 17%. The proposed method mimics the non-Fickian behavior of the transport observed in rivers while avoiding the computational cost and data requirements of more complex models.
Subject Categories
Copyright
Sun Jan 01 00:00:00 UTC 2017
Collections