From Auspicious to Suspicious Evaluating the Intention and Use of Imperial Chinese Symbolism in Contemporary Fashion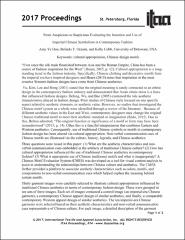 Series
International Textile and Apparel Association (ITAA) Annual Conference Proceedings
The first national meeting of textile and clothing professors took place in Madison, Wisconsin in June 1959. With a mission to advance excellence in education, scholarship and innovation, and their global applications, the International Textile and Apparel Association (ITAA) is a professional and educational association of scholars, educators, and students in the textile, apparel, and merchandising disciplines in higher education.
This site provides free, public access to the ITAA annual conference proceedings beginning in 2015. Previous proceedings can be found by following the "Additional ITAA Proceedings" link on the left sidebar of this page.
Abstract
A Chinese Motif Evaluation System (CMES) was developed as a tool for visual content analysis to assist in understanding the relationships between Chinese culture and aesthetics. The CMES provided a platform to associate aesthetic characteristics such as colors, motifs, and compositions to non-verbal communication cues which helped explain the meaning behind certain motifs. Thirty garment images were selected to illustrate cultural appropriation influenced by traditional Chinese aesthetics. Each set of three comparison images contained a control (an imperial-era Chinese garment) along with a contemporary Chinese apparel design and a contemporary Western apparel design of similar aesthetics to the control. The ten imperial-era Chinese garments were selected for their aesthetic characteristics and non-verbal communication cues representative of Chinese culture. Based on our CMES analysis, contemporary Chinese designers utilize cultural appropriation differently than Western designers. Chinese designers focused primarily on motif and content cultural appropriation, whereas Western designers emphasized content cultural appropriation.
Subject Categories
Collections