A Service-Learning Project with a Local Apparel Business Integrated into Trend Analysis and Forecasting Class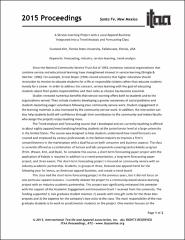 Series
International Textile and Apparel Association (ITAA) Annual Conference Proceedings
The first national meeting of textile and clothing professors took place in Madison, Wisconsin in June 1959. With a mission to advance excellence in education, scholarship and innovation, and their global applications, the International Textile and Apparel Association (ITAA) is a professional and educational association of scholars, educators, and students in the textile, apparel, and merchandising disciplines in higher education.
This site provides free, public access to the ITAA annual conference proceedings beginning in 2015. Previous proceedings can be found by following the "Additional ITAA Proceedings" link on the left sidebar of this page.
Abstract
Studies revealed numerous benefits that service learning offers both to students and to the organizations served. They include students developing a greater awareness of social problems and students becoming eager volunteers following class community service work. Student engagement in the learning materials is also increased by the community service work. The course was designed to help students understand how trend forecasts are created and employed by various professionals in the fashion industry to improve a firm's competitiveness in the marketplace with a dual focus on both consumer and business aspects.
Collections