Evaluation of Evotherm as a WMA technology compaction and anti-strip additive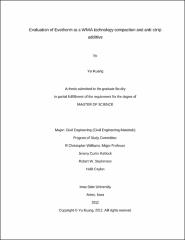 Altmetrics
Department
Civil, Construction, and Environmental Engineering
Abstract
With the development of the global economy, how to address sharply increasing demand for fossil fuels and reduce gas emissions has become a critical issue for society. Evotherm Warm Mix Asphalt Technology is an efficient way to reduce emissions and save energy in the asphalt paving industry. Evotherm 3G is the third generation Evotherm technology and it is a water &ndash free chemical additive that can reduce mix temperatures 33-45 ° C by directly adding it into the terminal asphalt binder.
As new generation WMA additives evolve, many owner agencies are concerned about these technologies contribute to moisture susceptibility. In addition, it is important for agencies to know that if adding WMA technologies will affect asphalt mixture stability at different compaction temperatures. Therefore, there are two main objectives to be addressed through this research. The first is to evaluate performance of the Evotherm &mdash J1 and the Evotherm &mdash M1 as a compaction technology additive. The second objective is to study the effect of moisture anti-strip of these two types Evotherm 3G products. In order to achieve the first objective, test results from MeadWestvaco were obtained including the compaction force index (CFI), and the traffic force index (TFI) to analyze the stability of the asphalt mixtures which were mixed and compacted at three different temperature combinations. The second objective of this research was achieved by running indirect tensile strength (ITS), dynamic modulus and Hamburg wheel track tests. The main conclusions of this study are as follows:
1. As a WMA compaction technology additive, either additive type (J1-0.5%, J1-1.0%, M1-0.5% and M1-1.0%) can be selected, because the Evotherm type and content do not affect the compaction shear capability.
2. All Evotherm 3G products (J1 and M1) demonstrated considerable moisture resistance ability, with the M1 performing slightly better than the J1.
3. The M1-0.5% is the recommended dosage as the optimal amount for the mixtures studied.
4. Compared to the J1-1.0%, the J1-0.5% is recommended for use as a moisture anti-strip.
Subject Categories
Copyright
Sun Jan 01 00:00:00 UTC 2012
Collections