Surface Wave Propagation in Fiber Composite Laminates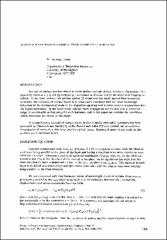 Series
Review of Progress in Quantitative Nondestructive Evaluation
Begun in 1973, the Review of Progress in Quantitative Nondestructive Evaluation (QNDE) is the premier international NDE meeting designed to provide an interface between research and early engineering through the presentation of current ideas and results focused on facilitating a rapid transfer to engineering development.
This site provides free, public access to papers presented at the annual QNDE conference between 1983 and 1999, and abstracts for papers presented at the conference since 2001.
Abstract
The use of surface acoustic waves to study surface and sub-surface defects is illustrated in the papers by Hsieh et al [1] and by Bashyan [2], contained in Volume IOB of the Review of Progress in QNDE. In the same volume, this present author [3] shows that for multi-layered fiber composite laminates, the existence of surface waves is in some cases associated with the short wavelength behaviour of the fundamental mode of the dispersion equation and in other cases it is associated with the higher harmonics. In the latter event, surface wave propagation occurs only over a restricted range of wavelengths or frequency for each harmonic and in this paper we examine the conditions which determine the extent of this range.
Subject Categories
Copyright
Wed Jan 01 00:00:00 UTC 1992
Collections