Apparel Design Students' Use of Textiles and Clothing Museums as Sources of Inspiration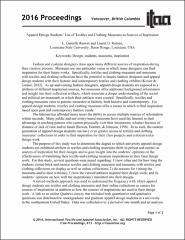 Series
International Textile and Apparel Association (ITAA) Annual Conference Proceedings
The first national meeting of textile and clothing professors took place in Madison, Wisconsin in June 1959. With a mission to advance excellence in education, scholarship and innovation, and their global applications, the International Textile and Apparel Association (ITAA) is a professional and educational association of scholars, educators, and students in the textile, apparel, and merchandising disciplines in higher education.
This site provides free, public access to the ITAA annual conference proceedings beginning in 2015. Previous proceedings can be found by following the "Additional ITAA Proceedings" link on the left sidebar of this page.
Abstract
A mixed-methods study explored apparel design students' use of textiles and clothing museums as sources of inspiration for their design work. Using an online survey, the participants reported the frequency in which they visited textiles and clothing museums and museums with textiles and clothing exhibitions, as well as the museums' online collections and exhibitions. Students also listed aspects of the museums' exhibited artifacts that influenced their design work and reasons for their lack of attendance at these types of museums. Additionally, the participants noted the frequency in which they used fashion blogs and websites for design inspiration and shared their views on the credibility of such resources for historical reference inspirations. The results of this study provide evidence that textiles and clothing museums are valuable venues for sources of inspiration for apparel design students.
Collections