Scattering of Rayleigh Surface Waves from Partly-Closed Surface-Breaking Cracks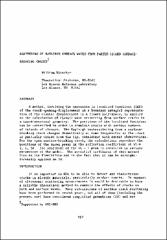 Series
Review of Progress in Quantitative Nondestructive Evaluation
Begun in 1973, the Review of Progress in Quantitative Nondestructive Evaluation (QNDE) is the premier international NDE meeting designed to provide an interface between research and early engineering through the presentation of current ideas and results focused on facilitating a rapid transfer to engineering development.
This site provides free, public access to papers presented at the annual QNDE conference between 1983 and 1999, and abstracts for papers presented at the conference since 2001.
Abstract
A method, involving the expansion in localized functions (ELF) of the crack-opening-displacement in a boundary integral representation of the elastic displacement in a flawed half-space, is applied to the calculation of elastic wave scattering from surface cracks in a two-dimensional geometry. The positions of the localized functions can be controlled in order to simulate cracks with various numbers of islands of closure. The Rayleigh backscattering from a surface-breaking crack changes dramatically at some frequencies as the crack is partially closed from the tip, consistent with recent observations. For the open surface-breaking crack, the calculations reproduce the positions of the known peaks in the reflection coefficient at kL = 1, π, 3 π. The amplitude of the kL = 1 peak is sensitive to certain parameters of the model. The potential usefulness of this method lies in its flexibility and in the fact that it can be straightforwardly applied in 3d.
Subject Categories
Copyright
Sun Jan 01 00:00:00 UTC 1984
Collections