The Contribution of CSR Information Substantiality Portrayed in Social Media to Corporate-Consumer Relationships: The Hierarchy of Effects Model Approach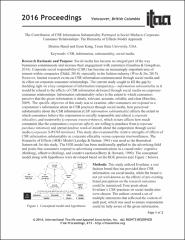 Series
International Textile and Apparel Association (ITAA) Annual Conference Proceedings
The first national meeting of textile and clothing professors took place in Madison, Wisconsin in June 1959. With a mission to advance excellence in education, scholarship and innovation, and their global applications, the International Textile and Apparel Association (ITAA) is a professional and educational association of scholars, educators, and students in the textile, apparel, and merchandising disciplines in higher education.
This site provides free, public access to the ITAA annual conference proceedings beginning in 2015. Previous proceedings can be found by following the "Additional ITAA Proceedings" link on the left sidebar of this page.
Abstract
Social media has become an integral part of the way businesses communicate and increase their engagement with consumers while corporate social responsibility (CSR) has become an increasingly important area of interest within the fashion industry. However, limited research exists on CSR information communicated through social media and its effects on corporate-consumer relationships. The current study sought to fill the gap by examining CSR information substantiality and its role in the effects of CSR information delivered through social media on corporate-consumer relationships based on the Hierarchy of Effects model. An online survey with 340 nationwide consumers was used to test the conceptual model. The key finding was that if consumers perceive the information is more timely, relevant, accurate, reliable, and clear when a corporation disseminates their CSR practices via social media, consumers are more likely to develop positive cognitive and affective perceptions as well as behavioral intentions toward the corporation.
Collections