The Perceived Benefits of the Honors Program through the Perspectives of Current Students, Recent Graduates and Over-5-Year Alumni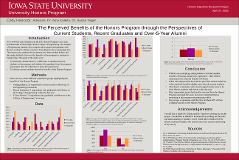 Series
Honors Projects and Posters
The Honors project is potentially the most valuable component of an Honors education. Typically Honors students choose to do their projects in their area of study, but some will pick a topic of interest unrelated to their major.
The Honors Program requires that the project be presented at a poster presentation event. Poster presentations are held each semester. Most students present during their senior year, but may do so earlier if their honors project has been completed.
This site presents project descriptions and selected posters for Honors projects completed since the Fall 2015 semester.
Department
Chemical and Biological Engineering
Abstract
The purpose of the study was to understand how ISU Honors Program members at different points in their education and/or career paths view their Honors experiences. Specifically, the study was intended to see whether, after some time for reflection or distance from the collegiate lifestyle, Honors alumni are able to gain a better understanding of the influences that affected their time and experiences. Surveys of the various respondent groups revealed that alumni of the ISU Honors Program tended to value the academic benefits of Honors a little more, while current students mentioned the tangible values such as priority registration or access to Jischke as being of greatest benefit. More than half of all respondents said the Honors Program was worth the extra effort and would attribute about 40% of their success to the program. Hopefully this research can be used to better communicate and express the benefits of the Honors Program to prospective and current students.
Subject Categories
Collections