Weed management update for 2015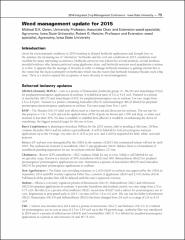 Altmetrics
Series
Proceedings of the Integrated Crop Management Conference
The Iowa State University Integrated Crop Management Conference is Iowa's premier crop production education event. No other program in Iowa brings together the diverse range of topics, slate of expert presenters and results of the latest University research.
The ICM Conference offers workshops focusing on the latest in crop production technology. Experts from Iowa and surrounding states will provide research updates and results in soil fertility, soil and water management, crop production and pest management.
Abstract
Given the environmental conditions in 2013 resulting in delayed herbicide applications and drought later in the summer, the increasing use of "alternative" herbicides and the cool wet conditions in 2014, conditions were excellent for many interesting occurrences. Herbicide carryover was a factor for several products, several products provided evidence why farmers preferred using glyphosate alone, and herbicide-resistant weed populations continue to evolve. It appears that the message of diversity in order to manage herbicide resistance is gaining traction but to the extent that the focus is primarily on herbicides which was the reason that herbicide resistance became such a big issue. There is a need to expand the acceptance of more diversity in weed management.
Subject Categories
Collections