Cross-college collaboration: Communication opportunities with 2-D and 3-D technology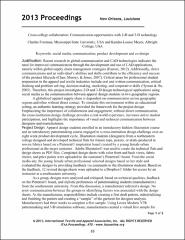 Series
International Textile and Apparel Association (ITAA) Annual Conference Proceedings
The first national meeting of textile and clothing professors took place in Madison, Wisconsin in June 1959. With a mission to advance excellence in education, scholarship and innovation, and their global applications, the International Textile and Apparel Association (ITAA) is a professional and educational association of scholars, educators, and students in the textile, apparel, and merchandising disciplines in higher education.
This site provides free, public access to the ITAA annual conference proceedings beginning in 2015. Previous proceedings can be found by following the "Additional ITAA Proceedings" link on the left sidebar of this page.
Abstract
Recent research in global communication and CAD technologies indicates the need for improved communication through the development and use of CAD applications, namely within global supply chain management strategies (Easters, 2012). Additionally, direct communications and an individual's abilities and skills contribute to the efficiency and success of the product lifecycle (Chen, Murray, & Jones, 2007). Critical areas for professional student preparation in the apparel and textile industries include oral and written communication, critical thinking and problem solving, decision making, marketing, and cooperative skills (Hyman & Hu, 2005). Therefore, this project investigates 2-D and 3-D design technological applications using social media as the communication between apparel design students in two geographic regions.
Subject Categories
Collections