Slot Resonators for Characterization of Dielectrics at Microwave Frequencies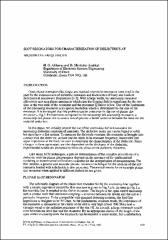 Series
Review of Progress in Quantitative Nondestructive Evaluation
Begun in 1973, the Review of Progress in Quantitative Nondestructive Evaluation (QNDE) is the premier international NDE meeting designed to provide an interface between research and early engineering through the presentation of current ideas and results focused on facilitating a rapid transfer to engineering development.
This site provides free, public access to papers presented at the annual QNDE conference between 1983 and 1999, and abstracts for papers presented at the conference since 2001.
Abstract
Open planar resonators like single and stacked microstrip resonators were used in the past for the measurement of dielectric constants and thicknesses of lossy and lossless dielectrics at microwave frequencies [1–3]. With a large width, the microstrip resonator effectively acts as a planar antenna in which case the fringing field is significant for the two slots at the two ends of the resonator and the resonator Q-factor is low. One of the limitations of the microstrip resonator is its spatial resolution which is determined by the size of the resonator. It is envisaged that this problem can be overcome by the use of planar slot resonators, Fig.1. Furthermore, compared to the microstrip-fed microstrip resonator, a microstrip-fed planar slot resonator would provide a better isolation between the feed and the material under test.
Copyright
Wed Jan 01 00:00:00 UTC 1997
Collections