Student Identification of Societal and Fashion Trends Through Blogs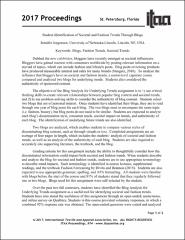 Series
International Textile and Apparel Association (ITAA) Annual Conference Proceedings
The first national meeting of textile and clothing professors took place in Madison, Wisconsin in June 1959. With a mission to advance excellence in education, scholarship and innovation, and their global applications, the International Textile and Apparel Association (ITAA) is a professional and educational association of scholars, educators, and students in the textile, apparel, and merchandising disciplines in higher education.
This site provides free, public access to the ITAA annual conference proceedings beginning in 2015. Previous proceedings can be found by following the "Additional ITAA Proceedings" link on the left sidebar of this page.
Abstract
Students in a senior-level capstone course analyzed the influence that bloggers have on societal and fashion trends. The Blog Analysis for Underlying Trends assignment had two main objectives, which were to 1) use critical thinking skills to create relevant relationships between popular blog content and societal trends, and 2) to use problem-solving skills to consider the authenticity of blog content. Based on open-ended responses from students over two course offerings, two themes emerged, which were Be Cautious of Sponsored Posts and Blogger Relevance in Societal Trends. Students were surprised to determine that bloggers have an influence over societal and fashion trends, and also had not thought about the authenticity of sponsored blog posts. Overall, students stated that they were cautious toward blog content, but understood the importance of bloggers' influence. The popularity of this assignment is due to students' routine exposure to blogs, as well as the interest of understanding how societal and fashion trends emerge.
Subject Categories
Collections