Production of Microbial Leather from Culled Sweet Potato Sugars via Kombucha Culture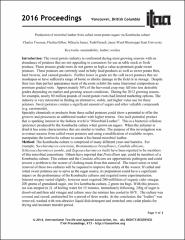 Series
International Textile and Apparel Association (ITAA) Annual Conference Proceedings
The first national meeting of textile and clothing professors took place in Madison, Wisconsin in June 1959. With a mission to advance excellence in education, scholarship and innovation, and their global applications, the International Textile and Apparel Association (ITAA) is a professional and educational association of scholars, educators, and students in the textile, apparel, and merchandising disciplines in higher education.
This site provides free, public access to the ITAA annual conference proceedings beginning in 2015. Previous proceedings can be found by following the "Additional ITAA Proceedings" link on the left sidebar of this page.
Abstract
The sweet potato industry is confronted during most growing seasons with an abundance of potatoes that are not appealing to consumers for use as table stock or fresh produce. These process grade roots do not garner as high a value as premium grade sweet potatoes. The purpose of this investigation was to extract sucrose from culled sweet potatoes and using a modification of available recipes, manipulate the kombucha culture to create a bio-based microbial leather.While the production of "grow your own leather" is not a new concept, approaching the process from a chemical and biological engineering perspective provides potential for a sustainable leather product. Additionally, the value loss for sweet potato farmers with higher percentages of culled crop can be devastating.
Collections