Detecting Cracks in Semiconductor Solarcells from Eddy-Current Measurements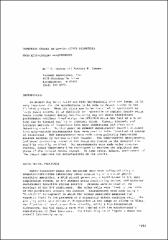 Series
Review of Progress in Quantitative Nondestructive Evaluation
Begun in 1973, the Review of Progress in Quantitative Nondestructive Evaluation (QNDE) is the premier international NDE meeting designed to provide an interface between research and early engineering through the presentation of current ideas and results focused on facilitating a rapid transfer to engineering development.
This site provides free, public access to papers presented at the annual QNDE conference between 1983 and 1999, and abstracts for papers presented at the conference since 2001.
Abstract
As modern-day solar cells are made increasingly thin and large, it is very important for the manufacturer to be able to detect cracks in the finished product. When the cells are to be installed in spacecraft or large panel arrays, it is difficult or impossible to replace faulty cells. Small cracks present during manufacturing may not cause significant performance problems immediately; the affected cells may fail at a later time due to thermal cycling or physical shock. Visual, thermal, and infrared methods of inspection have many limitations and often miss detecting cracks. In this paper we present experimental results obtained from eddy-current measurements that were used to infer locations of cracks in solarcells. EMF measurements were made using primarily hand-wound sensors excited by various current sources. The eddy-current measurements indicated conducting traces on the cells and cracks in the material that could be visually verified. Our measurements were made under computer control, using phase-sensitive techniques to measure the amplitude and phase of the induced sensor signal. In some cases, digital enhancement of the images improved the detectability of the cracks.
Subject Categories
Copyright
Sun Jan 01 00:00:00 UTC 1989
Collections