Diagnosing perceptual distortion present in group stereoscopic viewing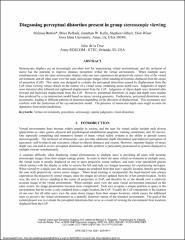 Abstract
Stereoscopic displays are an increasingly prevalent tool for experiencing virtual environments, and the inclusion of stereo has the potential to improve distance perception within the virtual environment. When multiple users simultaneously view the same stereoscopic display, only one user experiences the projectively correct view of the virtual environment, and all other users view the same stereoscopic images while standing at locations displaced from the center of projection (CoP). This study was designed to evaluate the perceptual distortions caused by displacement from the CoP when viewing virtual objects in the context of a virtual scene containing stereo depth cues. Judgments of angles were distorted after leftward and rightward displacement from the CoP. Judgments of object depth were distorted after forward and backward displacement from the CoP. However, perceptual distortions of angle and depth were smaller than predicted by a ray-intersection model based on stereo viewing geometry. Furthermore, perceptual distortions were asymmetric, leading to different patterns of distortion depending on the direction of displacement. This asymmetry also conflicts with the predictions of the ray-intersection model. The presence of monocular depth cues might account for departures from model predictions.
Comments
This is a conference proceeding from Proceedings of SPIE 8291 (2012): 1, doi:10.1117/12.912184. Posted with permission.
Copyright 2012 Society of Photo-Optical Instrumentation Engineers. One print or electronic copy may be made for personal use only. Systematic electronic or print reproduction and distribution, duplication of any material in this paper for a fee or for commercial purposes, or modification of the content of the paper are prohibited.
Subject Categories
Copyright
Sun Jan 01 00:00:00 UTC 2012
Collections