Understanding the impact of Academic Climate on STEM dissertator's interest in faculty careers using data management and visualization techniques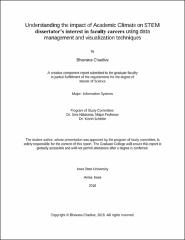 Department
Theses & dissertations (College of Business)
Abstract
The Center for the Integration of Research, Teaching, and Learning (CIRTL) was formed to analyze the overall experiences of STEM Dissertators and Faculty and understand the relationship of their academic experiences with their interest in faculty careers. My involvement in this project was in developing process and data management workflows and also in providing a platform to understand the results through visualizations.
The participants include graduate students, faculty members and Postdocs from ten distinguished universities. Surveys are filled in by the participants which are then analyzed to understand behavior patterns. This whole workflow where data is transferred between universities was created so the process can happen effectively. Once the process is mapped, work involved data gathering from the universities and warehouse creation to store the data for several years to follow. Eventually a dashboard was created to understand participant results and observe any trends.
This report limits to observing the patterns between the universities as the survey was deployed only once until now. The project plans to observe the patterns in participants across ten universities and help the participating universities in understanding the factors which cause them to change their opinions about having a career in the teaching domain. Further, this project aims to integrate the results among all the universities onto a Tableau dashboard to provide visualizations that help in understanding which universities perform well and share their learnings.
CHAPTER 1 - INTRODUCTION
About CIRTL
CIRTL is an organization that aims to enhance excellence in STEM undergraduate education through evidence-based teaching practices for diverse learners. CIRTL was founded in 2003 as a National Science Foundation Center for Learning and Teaching in higher education. CIRTL uses graduate educations and grants to help improve student life within the campus and also understand the effect that the university climate has on taking up teaching as a profession. The goal of CIRTL is to improve the STEM learning of all students at every college and university and thereby increase the literacy of the country.
CIRTL-AGEP network is affiliated with universities such as Iowa State University, Boston University, Cornell University, Howard University, Michigan State University, Northwestern University, University of Buffalo, University of Georgia, University of Maryland College Park, and University of Texas at Arlington.
As mentioned earlier, the grant focuses on improving dissertator experiences at a variety of institutions with the goal of reducing the effect of negative climate on interest in faculty careers.
DIVISIONS OF THE GRANT
1. Annual Survey – Each university sends out an annual survey regarding academic climate. The surveys were developed here at Iowa State University with Dr. Craig Ogilvie, Dean of the Graduate College heading the planning committee. The response rate of these surveys is expected around 30 percent. Separate Surveys for students and Faculty were created.
2. Annual Workshop Survey – Ea
Subject Categories
Copyright
Mon Jan 01 00:00:00 UTC 2018
Collections