Response of Cross-Ply and Quasi-Isotropic Laminates to Distributed Dynamic Surface Loads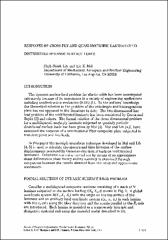 Series
Review of Progress in Quantitative Nondestructive Evaluation
Begun in 1973, the Review of Progress in Quantitative Nondestructive Evaluation (QNDE) is the premier international NDE meeting designed to provide an interface between research and early engineering through the presentation of current ideas and results focused on facilitating a rapid transfer to engineering development.
This site provides free, public access to papers presented at the annual QNDE conference between 1983 and 1999, and abstracts for papers presented at the conference since 2001.
Abstract
The dynamic surface load problem for elastic solids has been investigated extensively because of its importance in a variety of engineering applications including nondestructive evaluation (NDE) [1]. To the authors' knowledge the theoretical solution to the problem of the anisotropic and heterogeneous plate has not appeared in the literature to date. The two-dimensional line load problem of the multilayered laminate has been considered by Green and Baylis [2] and others. The formal solution of the three dimensional problem for a multilayered, angle-ply laminate subjected to spatially periodic distributed surface loads has been given by Mai [3]. Mai and Lih [4,5] have examined the response of a unidirectional fiber composite plate subjected to transient point and line loads.
Subject Categories
Copyright
Fri Jan 01 00:00:00 UTC 1993
Collections