Sedentary lifestyle and obesity in adults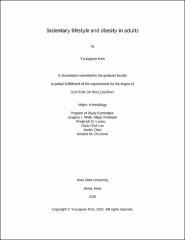 Altmetrics
Abstract
Excessive time spent on sedentary behavior (SB) can increase the risks of obesity, regardless of engagement in physical activity (PA). Subjective and objective measures are both available to assess SB but little is known about the relative utility of these measures for epidemiological research. The purposes of this dissertation were to 1) evaluate the accuracy of 24-hour Physical Activity Recall (24PAR) relative to SenseWear Armband (SWA) for assessing SB, 2) characterize the context of SB by demographic indicators, and 3) determine the independent/joint associations of SB and PA with obesity by the 24PAR versus SWA.
The first study demonstrated that the 24PAR had small errors for estimating total sedentary time, but larger errors for other definitions of SB (i.e. non-sleep, and non-sleep non-lying sedentary time). Moreover, extremely or minimally sedentary individuals had larger errors than moderately sedentary individuals. Older and/or heavier individuals tended to underestimate sedentary time more than younger and/or lighter individuals. The second study provided unique insights about the context of SB. Individuals with varying levels of socio-demographic variables exhibited differential patterns of `where' and `why' they spent time being sedentary. The third study found detrimental effects of excessive SB and beneficial effects of sufficient PA on obesity based on the objective estimates from the SWA. Analyses based on the subjective estimates from the 24PAR revealed significant associations with the PA outcome but these associations were weaker than the associations with the SWA. These results demonstrate that the objectivity and validity of the measures influences the ability to examine health outcomes.
This dissertation advances understanding about the underlying nature of sedentary lifestyles and its relation to obesity at the population level. The study utilized two promising measurement tools to obtain both objective and subjective measures of SB. The objective tool served as the criterion and provided strong associations between SB, PA and obesity. The subjective tool was found to have utility for examining the context of SB, but exhibited substantial measurement error, leading to null and/or weak associations with obesity. Future research is required to develop measurement error models to correct for recall biases of the 24PAR.
Subject Categories
Copyright
Thu Jan 01 00:00:00 UTC 2015
Collections