Microstructural Characterization of Materials by a Rayleigh Wave Analysis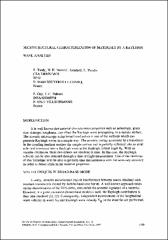 Series
Review of Progress in Quantitative Nondestructive Evaluation
Begun in 1973, the Review of Progress in Quantitative Nondestructive Evaluation (QNDE) is the premier international NDE meeting designed to provide an interface between research and early engineering through the presentation of current ideas and results focused on facilitating a rapid transfer to engineering development.
This site provides free, public access to papers presented at the annual QNDE conference between 1983 and 1999, and abstracts for papers presented at the conference since 2001.
Abstract
It is well known that material characteristics properties such as anisotropy, grain size, damage, roughness, can affect the Rayleigh wave propagating on a sample surface. The acoustic microscopy using broad-band pulses is one of the methods which can generate Rayleigh waves in a simple way. The acoustic energy generated by a transducer in the coupling medium reaches the sample surface and is partially reflected into an axial echo and converted into a Rayleigh wave at the Rayleigh critical angle θR. With an impulse excitation, these two echoes are resolved in time. In this case, the Rayleigh velocity can be also obtained through a time of flight measurement. One of the challenge of this technique is to be able to perform time measurements with the necessary accuracy in order to detect shifts in the material properties.
Copyright
Wed Jan 01 00:00:00 UTC 1997
Collections