Nondestructive Methods for Determination of Mechanical Properties of Aluminum and Titanium Alloys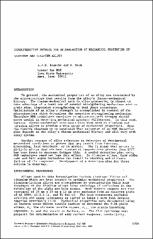 Series
Review of Progress in Quantitative Nondestructive Evaluation
Begun in 1973, the Review of Progress in Quantitative Nondestructive Evaluation (QNDE) is the premier international NDE meeting designed to provide an interface between research and early engineering through the presentation of current ideas and results focused on facilitating a rapid transfer to engineering development.
This site provides free, public access to papers presented at the annual QNDE conference between 1983 and 1999, and abstracts for papers presented at the conference since 2001.
Abstract
In general, the mechanical properties of an alloy are determined by the microstructure that results from the alloy's thermo-mechanical history. The thermo-mechanical path in alloy processing is chosen to take advantage of a least one of several strengthening mechanisms such as grain size, dispersion strengthening or dual phase structures. Optimization of an alloy's strength is accomplished by control of the microstructure which determines the operative strengthening mechanism. Therefore NDE techniques sensitive to microstructural changes should prove useful in detecting mechanical property differences. In this work, various thermo-mechanical treatments have been used on aluminum and titanium alloys to provide a wide range of mechanical properties. From the results obtained it is concluded that selection of an NDE detection plan depends on the alloy's thermo-mechanical history and will vary with alloy system.
Copyright
Tue Jan 01 00:00:00 UTC 1991
Collections