A Model of X-Ray Film Response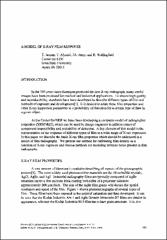 Series
Review of Progress in Quantitative Nondestructive Evaluation
Begun in 1973, the Review of Progress in Quantitative Nondestructive Evaluation (QNDE) is the premier international NDE meeting designed to provide an interface between research and early engineering through the presentation of current ideas and results focused on facilitating a rapid transfer to engineering development.
This site provides free, public access to papers presented at the annual QNDE conference between 1983 and 1999, and abstracts for papers presented at the conference since 2001.
Abstract
In the 100 years since Roentgen produced the first X-ray radiograph, many useful images have been produced for medical and industrial applications. To ensure high quality and reproducibility, standards have been developed to describe different types of film and methods of exposure and development[l]. It is desired to relate these film properties and other X-ray inspection parameters to a probability of detection for a certain type of flaw in a given object.
Copyright
Mon Jan 01 00:00:00 UTC 1996
Collections