A Recent Trend in Ecological Economic Research: Quantifying the Benefits and Costs of Improving Ecosystem Services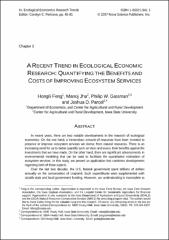 Department
Economics
Center for Agricultural and Rural Development
Abstract
In recent years, there are two notable developments in the research of ecological economics. On the one hand, a tremendous amount of resources have been invested to preserve or improve ecosystem services we derive from natural resources. There is an increasing need for us to better quantify such services and assess their benefits against the investments that we have made. On the other hand, there are significant advancements in environmental modeling that can be used to facilitate the quantitative estimation of ecosystem services. In this study, we present an application that combines developments regarding both of these aspects.
Over the last two decades, the U.S. federal government spent billions of dollars annually on the conservation of cropland. Such expenditures were supplemented with sizable state and local government funding. However, our understanding is incomplete as to the impacts of these expenditures on the use of conservation practices and their environmental effectiveness. Expanded knowledge on these issues is greatly needed to support societal decisions as to how much more, if any, we must do to improve environmental quality to a desired level. In this article, we provide some insights into these issues by examining two broad questions: 1) What conservation practices are currently in place, what is their coverage, and what is the cost of these practices? 2) What have been the environmental impacts of the currently-installed conservation practices?
These two questions were examined both at the national level and, as an in-depth case study, at the state level for the state of Iowa. At the national level, information on government expenditures were gathered and previous literature was surveyed to provide an overview of what we know with regard to the two questions. At the state level, to address the first question, we collected data from various surveys, and from federal and state conservation program sources. A database for the costs and coverage of major conservation practices was developed. In order to answer the second question, the widely used Soil and Water Assessment Tool (SWAT) water quality model (Arnold et al., 1998; Arnold and Forher, 2005; Gassman et al., 2007) was employed to estimate the impacts of key conservation practices. The challenges and problems encountered in establishing accurate statewide cost estimates were discussed. The advantages and drawbacks of modeling were also identified to put our results in perspective.
Comments
This chapter is published as Feng, H., M. Jha, P.W. Gassman, and J.D. Parcel "A Recent Trend in Ecological Economic Research: Quantifying the Benefits and Costs of Improving Ecosystem Services." In Ecological Economics Research Trends. 2007. Carolyn C. Pertsova (Ed), Nova Science Publishers, New York. Posted with permission.
Subject Categories
Copyright
Mon Jan 01 00:00:00 UTC 2007
Collections