Composite Method for Discontinuous 3‐D Surface Measurement: Simulations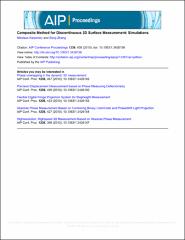 Abstract
This paper presents a method for discontinuous surface measurement by using only four fringe images. The technique has the advantage of measurement speed over conventional methods with similar capabilities that rely on utilizing at least nine fringe images. Simulation results demonstrated that the technique can be used to effectively measure steep height variations in an object as well as discontinuous surfaces.
Comments
The following article appeared in AIP Conference Proceedings 1236, (2010);438 and may be found at doi:10.1063/1.3426156.
Copyright 2010 American Institute of Physics. This article may be downloaded for personal use only. Any other use requires prior permission of the author and the American Institute of Physics.
Subject Categories
Copyright
Fri Jan 01 00:00:00 UTC 2010
Collections