New Work in Acoustic Leak Location in Underground Pipelines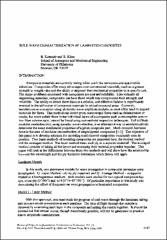 Series
Review of Progress in Quantitative Nondestructive Evaluation
Begun in 1973, the Review of Progress in Quantitative Nondestructive Evaluation (QNDE) is the premier international NDE meeting designed to provide an interface between research and early engineering through the presentation of current ideas and results focused on facilitating a rapid transfer to engineering development.
This site provides free, public access to papers presented at the annual QNDE conference between 1983 and 1999, and abstracts for papers presented at the conference since 2001.
Abstract
During the last ten years, the nation has become increasingly aware of the potential for environmental damage from leaks in underground and aboveground storage tanks, and related pipelines. Federal and state regulations have been developed that mandate inspections, require regular testing and set out design standards of construction for underground storage systems. More specifically, existing federal regulations (40 CFR Parts 280 and 281, September 1988) require that underground tanks and pipelines containing petroleum products and other hazardous substances be tested for leaks on a regular basis and that once a leak has been detected, it be corrected. While this requirement appears to be relatively simple, it, in fact, presents substantial difficulty in implementation. The difficulties are of two types.
Subject Categories
Copyright
Mon Jan 01 00:00:00 UTC 1996
Collections